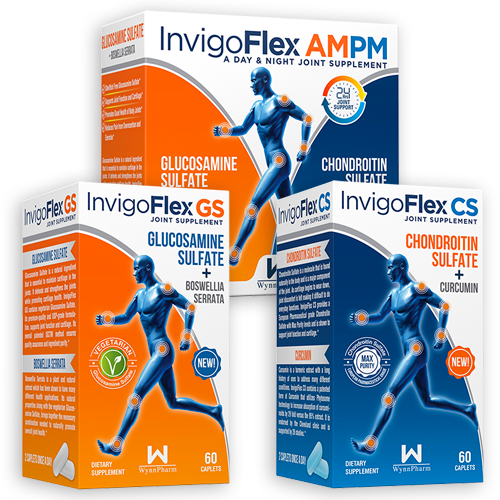 We're here when you need us!
Call: (800) 214-9600
Email: info@wynnpharm.com
Invigo

Flex® Testimonials

InvigoFlex® GS

Product seems to help my 76 year old joints pretty good!

It really does work! It helps with the joint pain, especially when it rains. Been on it for awhile and I have been very pleased with the results

At first I didn't notice a difference but when I let the order run out I noticed the pain returned. I let it happen once and now I 've learned to order the product monthly

I have been taking the GS for a year now and see no difference between this and DONA

Rheumatologist told me to get this. I workout and this medicine has been really working for me

This is a miracle supplement. I get around so much better.

Been taking InvigoFlex GS for a long time. Seems to be helping.

Me and my husband (70 & 69 years old) have been taking the InvigoFlex GS, we had few issues with our joints, they were just vey creaky. We are now feeling better and no longer hear that pop pop pop while getting out of bed.

I'm another ecstatic customer enjoying the positive effects of InvigoFlex GS on my OA knees!

Working good for me, knees seem to be much better.

Life has improved, it's a blessing!

Have been on DONA for years and have tried InvigoFlex GS for 6 months and it works just as good!

Great, I have had fewer problems

- Dr. Rashiday J. Muhammadon

We are trying to wean our pain patients off of their pain medications and this is a marvelous way to do it. I also gave my husband only one dose, and his back pain improved slightly

I was very skeptical but my doctor assured me that invigoflex was different than others. I triedit for 3 months and I haven't stop since. I am a believer.

My doctor recommend this product specifically because he knew I was on a budget but needed help. I was too surprised to actually see a benefit!

I recently was on DONA but when they told me about InvigoFlex GS it seemed like a no brainer. I was worried it wouldnt be as good as dona but I dont see a difference. Invigoflex works just as good. Only difference is I am saving money!

Been on invigo for 4 months and my joints are feeling better. Plus, I love the addition of Boswellia!

InvigoFlex® CS

My doctor recommended Invigoflex CS to me and my joints couldn't feel any better. It actually works!

I have been using the in conjunction with the glucosamine. So far I have seen some minimal decrease in pain. My joint space is all but gone so that is an improvement. Not a fan of huge piles and having to take two at a time but it's gets the job done.

InvigoFlex® AMPM

InvigoFlex AMPM has been miraculous. I am up for a hip replacement but the pain has been so much better since taking this product. It's fabulous I no longer wake up in the middle of the night with pain. I love it!

This product has worked great for my knee & foot pain!

I have been taking this for about 15 weeks now. It was recommended by a rheumatologist. I basically saw little result until around the 12th week which is when they say it takes full effect. I used to wake up in the night with pain so awful I thought I would cry. When I walked around after a short time I would be in pain. Now, it is virtually gone. I am so much improved, I just hope that it lasts. This product also has helped with stiffness when I sit for a while and get up out of a chair and walk bent up until I get the knots out, now, they are almost gone. To me this has been a really super product but you MUST take it the entire time or you wont be giving it a fair try. I am 60 years old so not ready for the pasture quite yet!

Doctor told him to get AMPM and it has worked wonders

I have been on other Glucosamine Chondroitin products before and they never seem to help. InvigoFlex ampm really helped not only my joints but alos my back. I couldn't believe it! I told all my friends about it.

I thought the product was great. It has helped my knees feel a lot better. You have to get use to taking it in the morning and evening.

Started regimen of AM & PM approximately 4 weeks ago and am pleased with results so far. Easier to climb up and down steps without discomfort. Would highly recommend.