PreDia SPECIAL: Buy 5, Get 1 Free
PreDia® is available in a one month 30 count blister pack, where you take 1 caplet per day, making it a convenient once-a-day dosage.
PreDia®, a new and revolutionary dietary supplement for people who have prediabetes & metabolic syndrome. Often diet and exercise is needed to combat these conditions. Now, PreDia® is also there to help when you need it most. Powered by GSECM-50™ a source of the scientifically proven dosage of abscisic acid (ABA) made of Grape seed extract, chromium and magnesium. PreDia® has been shown to improve the typical markers associated with both prediabetes and metabolic syndrome when combined with an healthy lifestyle.
PreDia is currently on backorder. It is expected back in stock by June 30th.
SPECIAL OFFER
BUY 5 BOXES, GET THE 6TH BOX FREE!
Must purchase first 5 boxes at regular price of $39.99 per unit. Cannot be combined with any other specials.
---
New Product!
Click here to be the first to write a review.
---
Supplement Facts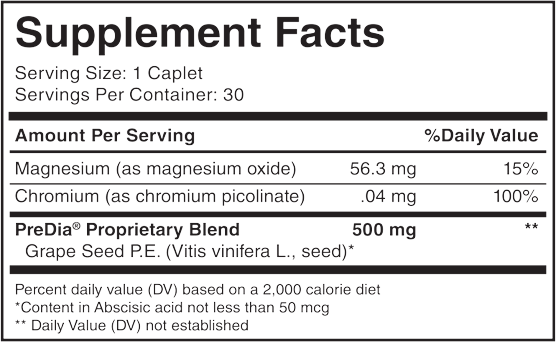 Directions for Use
Take one caplet in the morning without food. It is recommended to take 20 minutes before breakfast or lunch.
As with any nutritional product, please consult your physician before taking. Do not use during pregnancy or if breastfeeding. Do not take more than is recommended in the daily dose. Not intended for children under 3 years of age. Results may vary. Use only as directed. PreDia® is Gluten Free.