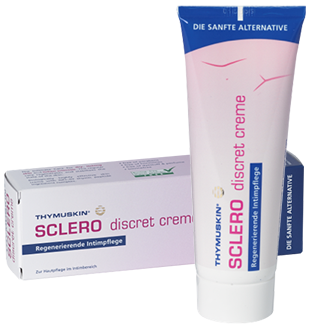 We're here when you need us!
Call: (800) 214-9600
Email: info@wynnpharm.com
SCLERO® discret creme study
Treatment and care of genital lichen sclerosus
Authors: M. Hagedorn S. Polley, E. Hasche
Institute: Klinikum Darmstadt Skin Clinic
Academic Teaching Hospital of Frankfurt a. M. and Heidelberg-Mannheim Universities
Abstract
Lichen sclerosus is a chronic recurrent inflammatory dermatosis of the vulva which most frequently progresses over its course. Pathogenetically, an autoimmune aetiology is probable, as demonstrated by new findings with evidence of autoantibodies against the extracellular matrix protein (EMC 1). The therapy of choice is topical corticosteroids, in which the galenics play a major role, since lichen sclerosus patients reveal pronounced irritability of the vulva. The selection of care products during intervals of acute inflammation is also decisive. Sclero discret® Thymuskin® intimate care cream has proven to be a particularly favourable care product for this purpose, as this observational study demonstrates. Further studies will be needed to indicate whether this interval treatment can reduce the acute inflammations, thus reducing the need for corticoid preparations.
Introduction
Lichen sclerosus is one of the non-infectious, chronic inflammatory generally progressive vulva diseases of unknown aetiology. The incidence rate of vulvar lichen sclerosus amounts to 14 in 100,000 per year. All age groups are affected. The preferred localisations on the male genitals are the glans penis around the meatus and the foreskin. In women, the sulcus interlabialis is most frequently affected, followed by the clitoris, labia minora, perineum, perianal zone and labia majora. The clinical symptoms are characterised by itching, burning and pain and dyspareunia, as well as pain during urination and defecation. The clinical picture is quite characteristic, but a histological verification of the diagnosis is required, since it is above all necessary to rule out precancerous vulva diseases. The therapy of choice is topical corticoid preparations, but they should be only used for as short a period time period as possible [5]. Alternately, calcineurin inhibitors can be used, although the results have received mixed evaluations. Statements on local care after intensive treatment have only been made in passing. In our view, though, supportive treatment is a highly significant factor, with which steroid treatment can be reduced. This is demonstrated by the results of supportive treatment with Sclero discret® Thymuskin® intimate care cream from VITA-COS-MED GmbH, which contains the following main ingredients: a synthetic, nature-identical thymus-peptide library, triglyceride and palmitates.
Patients and method
67 patients were treated with Sclero discret® Thymuskin® intimate care cream, 13 with pimecrolimus and 26 with tacrolimus in an observation study. Various pre-treatment could be determined with all 106 patients; particular use was made of preparations containing steroids of varying strengths. The treatments were not tolerated due to burning in some cases, there was no improvement in some cases, and in some cases the corticosteroid therapy was discontinued by the patient due to the danger of genital skin thinning. The average duration of treatment was three months. Treatment success was classified in terms of freedom from symptoms, marked amelioration, slight amelioration and no amelioration. Freedom from symptoms was defined as the complete absence of typical symptoms such as burning, itching and feelings of tightness. The reduction of these main symptoms by 75% was classified as marked amelioration and reduction of 50% was considered slight amelioration. According to first-hand experience, these subjective symptoms provide the best information on the activity of the affection with lichen sclerosus. Objectively, it primarily leads to an abatement of the excoriations. The sclerosis is difficult to assess. But palpitation can enable testimony here as well, whereas validation is certainly not possible. The examinations were conducted before the administration, after six weeks and after three months.
Results
The assessment of the results is based on the statements given by the patients and on the findings determined by the physician. After administration of tacrolimus two times daily, the 26 patients with an average age of 52.4 years indicated 4x freedom from symptoms, 8x marked and 1x slight amelioration. Ten of the patients did not experience any amelioration and three of the patients unfortunately stopped showing up. Freedom from symptoms was only determined in a single case with the 13 patients with an average age of 44.9 years who took primecrolimus two times daily. Two cases showed slight amelioration and eight showed no improvement. A follow-up examination was not possible in two cases. The largest group, with 67 patients and an average age of 50.4, used the treatment preparation Sclero discret® Thymuskin® intimate care cream and revealed 7x freedom from symptoms, 22x marked amelioration, 18x slight amelioration and 10 cases in which no effects were determined. A three-month follow-up treatment was not possible in nine cases. (Table 1)
Table 1: Lichen sclerosus - Therapy with calcineurin inhibitors and treatment with Sclero discret® Thymuskin® intimate care cream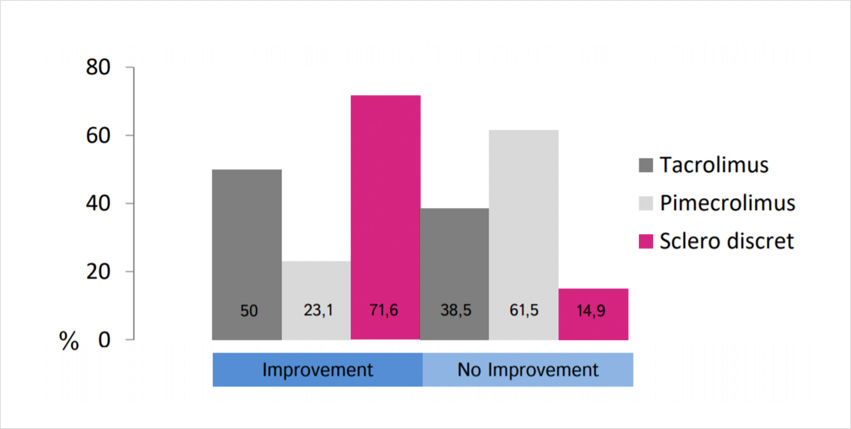 Diagram 1: Therapy with calcineurin inhibitors and treatment with Sclero discret® Thymuskin® intimate care cream
Discussion
Contrary to prior views, vulvar lichen sclerosus is not limited to menopause, but occurs in all age groups [3]. The clinical picture with porcelain-white, to some extent converging papules is quite typical. The complete clinical picture shows a pronouncedly taut atrophy with follicular hyperkeratoses. Haemorrhages are primarily encountered with children. In the advanced phase, complete fusion of the labia and constriction of the introitus vaginae occur.
Pathognomonic can also be found histiopathologically, in which no epidermal alterations are noticeable during the early stages, but alterations to the connective tissue in the form of homogenisation of the collagen fibres and a lymphohistiocytic infiltrate can be determined. Epidermal atrophy with vacuolic degeneration of the basal cells and increase of the homogenisation and sclerosising of the corium only occur later. The immunohistological findings indicate a cell mediated immune reaction. Autoantibodies against the extracellular matrix protein 1 (EMC 1) have been found in more recent studies [8]. This makes the auto-immune aetiology increasingly probable. Unquestionable genetic factors have been proven [2], while hormonal and infectious factors do not play any role. Borrelia in particularly is recurrently speculated as being the cause, although clear evidence is lacking. However, there is no doubt of the fact that those suffering from lichen sclerosus more frequently suffer from additional autoimmune diseases (Meyrick Thomas et al., 1988). The question of whether the lichen sclerosus is precancerous has not been resolved clearly, but it is not likely [4].
Topical corticosteroids are the therapy of choice; clobetasol is predominately used in Anglo-American literature. We prefer class II steroids such as mometasone furoate cream or methylprednisolone aceponate ointment. We believe that the galenics are of decisive importance and have had good experiences with each of these two corticosteroids in this light. Tacrolimus and pimecrolimus can alternately be used. The use of a preparation containing thymus extract [1] has also yielded clear evidence of effectiveness. Creams containing testosterone are obsolete and furthermore contraindicated. Once the acute symptoms have subsided, carrying out individual treatment of the vulva is the priority. We are of the opinion that lichen sclerosus patients have an especially irritable vulva (like rosacea patients) and the selection of treatment is of decisive importance for the further course of the disease. An entire array of products are available for treatment. For one thing, all base compositions without fragrances such as Cold Cream RP or Deumavan, to name but two examples. However, Sclero discret® Thymuskin® intimate care cream proved to be the most effective in our investigations [6]. This treatment composition has demonstrated a superior effect in comparison with both therapeutic agents (tacrolimus and pimecrolimus), and it is not only suitable for the treatment of lichen sclerosus. In addition to the galenics, the reason for this therapeutic effect can primarily be attributed to natureidentical chemically produced thymus peptides, which is based on the immunomodulatory effect.
Abstract
Treatment and care of genital lichen sclerosus
Lichen sclerosus is a chronic recurrent inflammatory disease of the vulva. Pathogenetically there are signs of autoimmunity, as new findings demonstrate autoantibodies against the extracellular matrix protein (EMC 1). The therapy of choice are topical corticosteroids, whereas the galenics play a major role, because lichen sclerosus patients reveal a great irritability of the vulva. That is why it is important to find a care product in the interval of the disease. According to our investigation Sclero discret® Thymuskin® is an excellent care product, which may be useful in prolonging the symptom-free intervals.
Literature
Hagedom, M.: Lichen sclerosus et atrophicus: Behandlung mit Thym-Uvocal Creme. Akt. Dermatol. 1987; 13: 30-33
Hagedom, M.: Genitaler vulvärer Lichen sclerosus bei Geschwistern. Z.Haut Gschl. 1989; 64: 810-814 (1989)
Hagedom, M., Buxmeyer, B., Schmitt, Y., Bauknecht, T.: Survey of Genital lichen sclerosus in women and men. Ach. Gynecol. Obstet. 2002; 266: 86-91
Hagedom, M., Golüke, T., Mall, G.; Lichen sclerosus und Vulva-Karzinom. JDDG. 2003;1:864-868
Hagedom, M., Hasche, E.: Vulvärer Lichen sclerosus und vulvo-vaginaler Lichen ruber. In: Fortschritte der praktischen Dermatologie und Venerologie. Hrsg: G. PIewig, P. Kaudewitz,, Springer-Verlag Berlin, 2005: 356-359
Löhnert, M.; Rapprich, S.; Hagedom, M.: Behandlung des genitalen Lichen sclerosus mit einem synthetischen Thymuspräparat - eine Anwendungsbeobachtung Posterpräsentation; Tagung der Vereinigung Südwestdeutscher Dermatologen, Karlsruhe 2006
Meyrick Thomas, R. H.; Ridley, C. M.; Mc Gibbon, D. H.; Black, M.M.: Lichen sclerosus et atrophicus and autoimmunity – a study of 350 women. Br. J. Dermatol.1988; 118: 41-46
Oyama, N. et al: Development of antigen-specific ELISA for circulating autoantibodies to extracellular matrix protein 1 in lichen sclerosus. J. Clin. Invest. 2004; 113:1550-1559