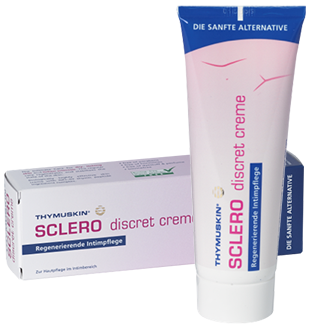 We're here when you need us!
Call: (800) 214-9600
Email: info@wynnpharm.com
SCLERO® discret creme
Thymuskin® SCLERO discret helps care for your dry and itching skin. With its high-dose and patented active complex GKL-02, it is extremely effective in the area of skin regeneration and stabilization.
Intimate care for dry, itching skin
Care for Lichen Sclerosus
Regenerates & stabilizes the skin
The gentle alternative

(Bovin free, Paraben free, Hormone free, dye and perfume free)

Applicable for women and men
Free from Side Effects
Intimate Skin Care, the Gentle Alternative
As we age, the skin begins to lose its elasticity as less fat is produced and the skin's ability to retain moisture declines. Dry skin is frequently linked to redness and itching, and can even cause thinner and more sensitive skin. Changes like this also occur with various skin conditions such as lichen sclerosus, which require specific treatment followed by long term care. Now SCLERO discret is there to help with your most intimate skin conditions, free from any side effects.
The gentle alternative
Free of parabens • free of hormones • free of dyestuff & perfume • bovine-free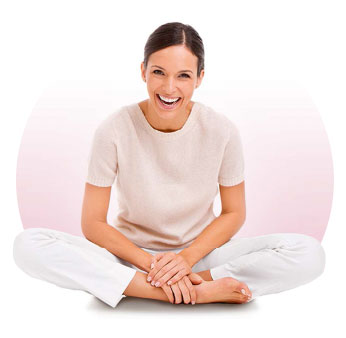 Lichen sclerosus
In addition to general skin care, SCLERO discret is most helpful with patients suffering from lichen sclerosus, a chronic condition that causes thin, white patches of skin, usually in the genital area. Lichen sclerosus is most common in postmenopausal women but can also affect men and children of all ages. The cause is still unknown but many healthcare providers credit a overacting immune system or an imbalance of hormones within the body.
Signs and symptoms can include:
Itching
Redness
Apperances of white patches
Wrinkled patches
Tearing or bleeding
Discomfort and pain, especially during sex
Clinically Proven
SCLERO discret contains a high-dose of the patented active complex called GKL-02, a bovine-free natural thymic peptide. The use of thymus peptides in medicine has proved to be extremely effective in the area of skin regeneration and stabilization processes. During a clinical observational study about intimate care, an improvement of symptoms - confirmed in 80% of all cases - was observed in patients using Thymuskin SCLERO discret.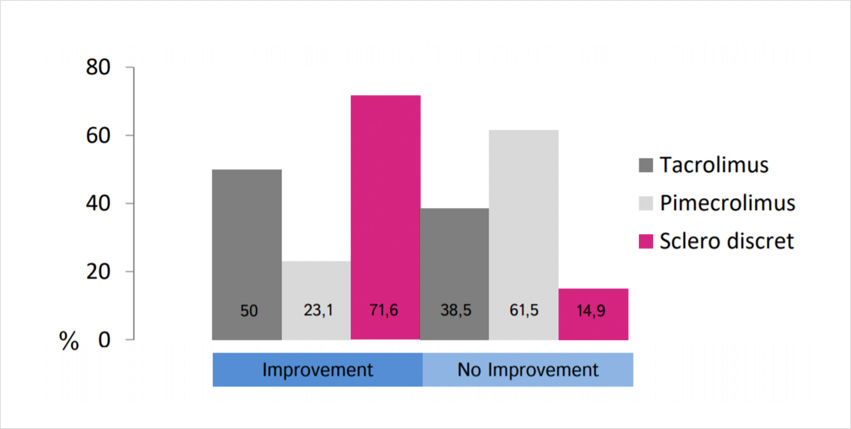 Frequently Asked Questions
---
Application
Apply SCLERO discret evenly to the affected area.

Ingredients
THYMUSKIN® SCLERO discret
AQUA, PETROLATUM, PROPHYLENE GLYCOL, CAPRYLIC/CAPRIC TRIGLYCERIDE, PEG-20 GLYCERYL STEARATE, CETYL ALCOHOL, GLYCERYL STEARATE, METHYLPROPANEDIOL, CAPRYLYL GLYCOL, PHENYLPROPANOL, SYNTHETIC THYMUS HYDROLYSATE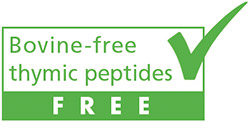 THYMUSKIN® SCLERO discret is free of parabens, hormones, dyestuff & perfume, as well as bovine-free.
M. Löhnert, S. Rapprich, M. Hagedorn: Anwendungsbeobachtung mit einem Thymus-Präparat ohne tierische Inhaltsstoffe, Sept. 2005 (applicational study with a bovine-free thymic preparation)
Enzyklopädie der Dermatologie, Allergologie, Umweltmedizin, Altmeyer & Paech, 2.Auflage 2010 (encyclopedia of dermatology, allergology and environmental medicine)
This information represents the current status. Formulas are subject to development and can change. For external use only, keep out of the reach of children. For all products no animal tests have been carried out.